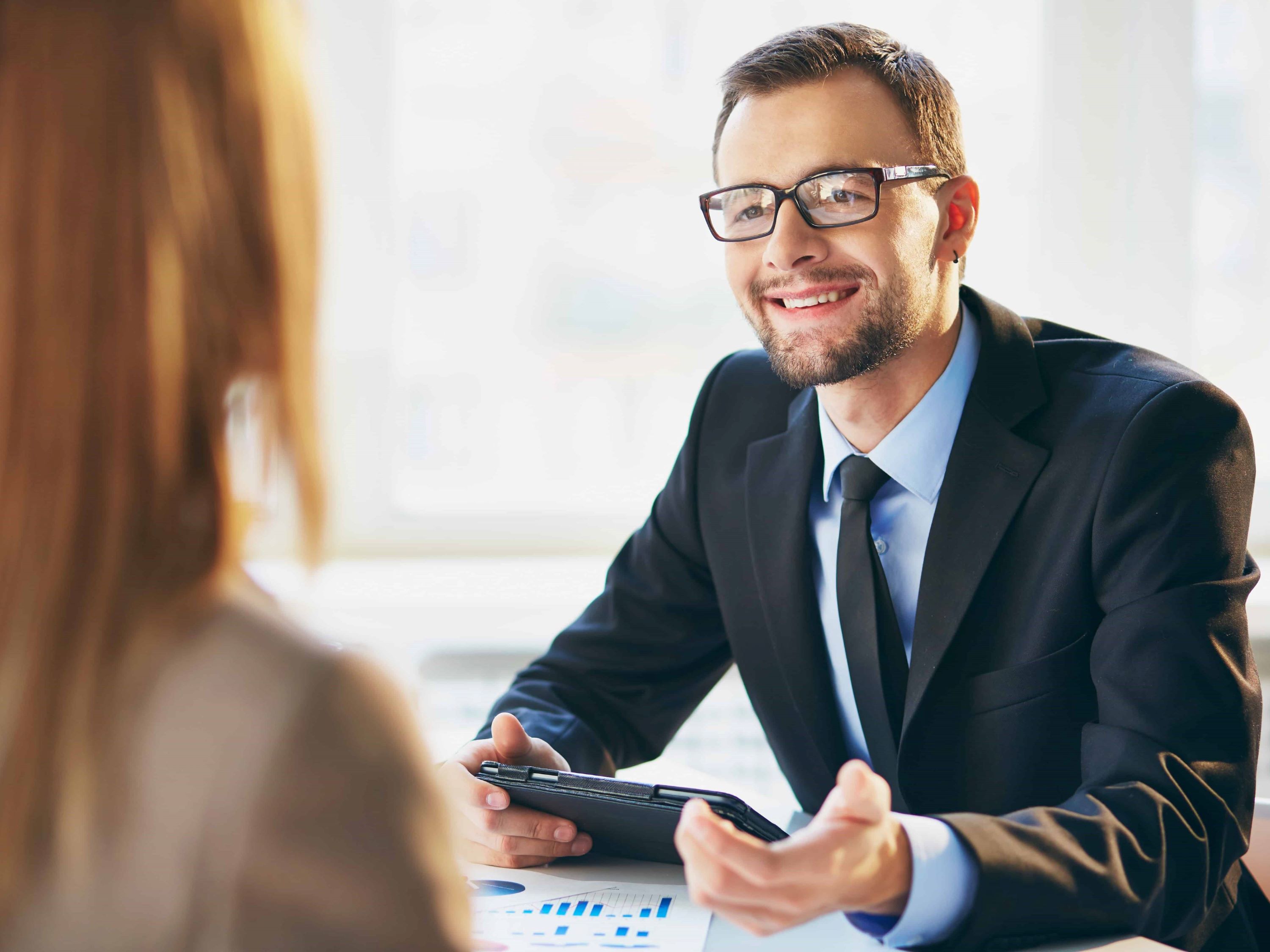 Executive recruiting tends to be an outbound activity. The best candidates are already gainfully employed somewhere and aren't posting their resumes online. Hence, effective outreach is one of the most critical aspects of an executive search.
Simply sending an email blast to your entire database about every project you take on won't work. For one, you'll see a high unsubscribe rate. CMOs generally don't care about CTO roles, and vice versa, so they'll unsubscribe. And then when you do have a role for them, they won't even get your email.
Even worse, email blasts do nothing to build a personal connection and likely erode any respect the candidate may have had for you. Selling an already gainfully employed candidate on a new opportunity requires you to understand what factors are important to them. Your outreach needs to be a conversation, not an announcement. Let's take a look at some ways to get there.
The Best Way to Improve Your Outreach Is to Improve Your Research Strategy
We'll talk more about outreach tips and screening checklists below, but the single biggest limiter to outreach success comes down to the quality of your research. Outreach really is a 'garbage in, garbage out' process. Calling a bunch of candidates that aren't a fit is a complete waste of time. If you're working on a team and research has sent you a bunch of junk candidates, go back to them and give them constructive feedback to get it right. The time spent on doing research right is small compared to the time wasted on reaching out to the wrong candidates.
Good candidates, the output from research, depends on setting a good research strategy upfront and properly executing that strategy. Before you reach out, you should know if a candidate is at a target company or not. You should know if they are a candidate or a source that might know someone who is. You should even know if they're from your internal database and have a prior connection or if they were scraped off LinkedIn and completely cold. This 'metadata' will shape your outreach.
If you or your team is struggling with research check out our Best Practices for Showcasing Your Executive Recruiting Research.
Construct a Clear and Succinct Outreach Message
It's your job as a recruiter to present your intended audience with the information they need to make an informed decision. This responsibility is why it's crucial to ensure you're getting your message across as clear and straightforward as possible. Whether it's an email, InMail, or phone call, you should include the following in your outreach.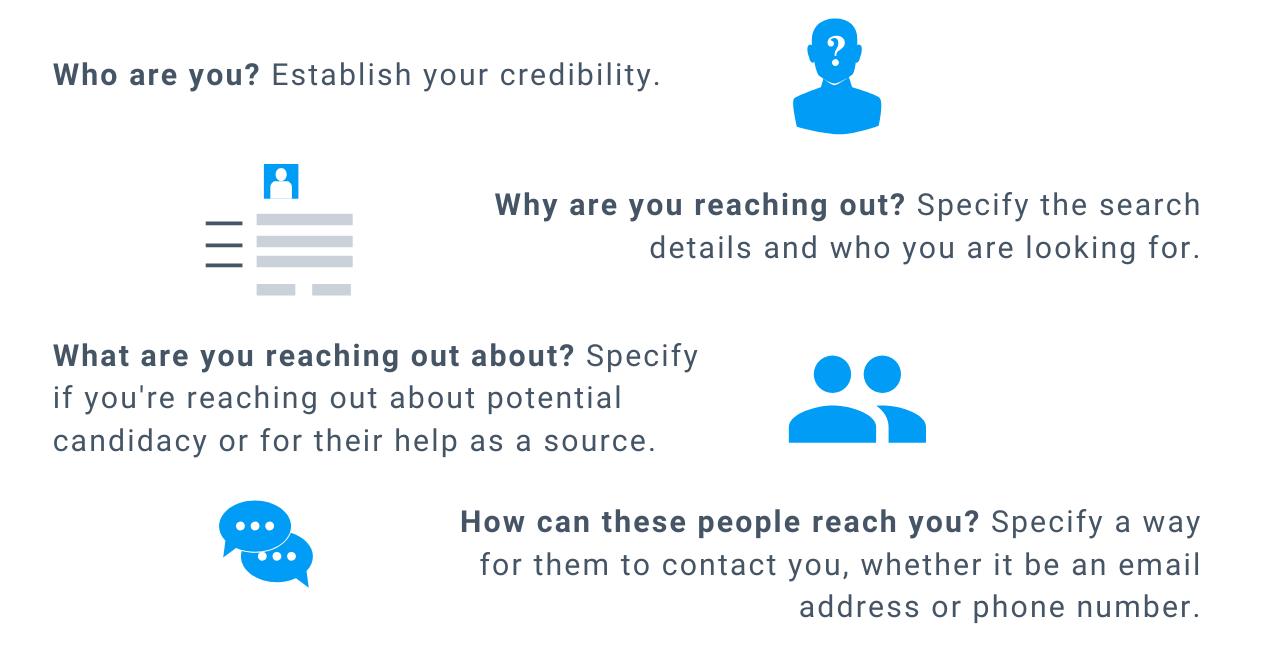 Who are you? Whether you're a retained search firm, an in-house or corporate executive recruiting team, or an institutional investor, be upfront about how you are. That's the clear part, most people have trouble being succinct here. If you're a small search firm, don't shy away from it, tell them what your specialty is. If you're a big name, don't over embellish.
Why are you reaching out? The '6-second resume scan' doesn't just apply to resumes. It applies to your outreach too. Get right to the point with the search details and who you're looking for. If they're interested or know someone who is, they'll respond.
What are you reaching out about? This one is where the metadata from research comes in. If you know they're not a fit but could be a source, tailor your outreach appropriately. If there is a prior connection, maybe they were a candidate on a past project, reference that in your outreach.
How can these people reach you? It seems obvious, but make sure you clearly indicate how they can contact you. Well crafted outreach is pointless if there is no way for them to respond.
Here are some more tips for crafting clear and succinct outreach:
Don't badger people. Figure out how many times you want to contact people, decide on a cadence, and stick to it.
Call and then email. If you email first it will likely just get deleted. If you call first, you will likely get their voicemail but you can say you'll follow up your call with an email. That email is more likely to be read.
Only say your number once if leaving a voicemail. Saying it once forces you to slow down and say it clearly, instead of rushing through it twice.
You can force their hand and say 'I'm going to call you tomorrow,' and give them your contact info so they'll be inclined to call you sooner.
Avoid cold calling & cold sourcing. Establishing a relationship goes a long way to make sure your outreach process runs smoothly. Even if it's currently not a fit, the email exchange or phone call can set the stage for future opportunities.
QIA, The Screening Checklist
QIA stands for Qualified, Interested, and Available. It's an easy way to remember what you're ultimately trying to uncover in your outreach. Let's take a look at each.
Qualified. Ideally, the initial qualification of a candidate should be part of your research process. Your outreach should verify that qualification, check for updates, and verify any gaps. If your research team uses Research Criteria Scorecards, it can serve as a basis for qualification questions. Also take it further and explore what research can't uncover. Begin to learn more about the candidate's lifestyle and interests and compare these with the company culture.
Interested. You need to determine if they are truly interested in the role. Begin by selling them on exciting aspects of the role and the company and gauge if their interest is legitimate. Ask about what they're looking for in their next role and see if that matches. Consider their tone and whether they're interested in learning more and next steps. And if they're not interested, ask why. The answer might help inform research on a future project.
Available. Often overlooked in the screening call, you need to determine if they are available to make a move and if not, when. Also determine their short-term availability, if they are moved forward in the process, when would they be available for interviews. It's also a good time to gauge their expectations for compensation and benefits. Again, if they indicate they're not available, ask why. The answer might be helpful for future searches.
For some sample QIA questions, download our Screening Checklist. And remember, if they aren't QIA for this search, they might know someone who is or they might be for a future search. Spending a few extra minutes now might save hours later.
You're Buying and Selling
QIA questions are inherently designed to assess the candidate. It's as if you're 'buying' them on behalf of the client. Remember, you're also 'selling' them on an opportunity. They likely already have a job and you're convincing them they should consider a change.
Determining if the candidate is QIA should not be an interrogation. It should be a natural conversation and you should be sure to bring up the selling points of the opportunity as they fit with the candidate's background and experience. Indeed, the QIA process is as much about assessing the candidate for your client as it is for you to sell them on the opportunity.
In the same light, you're also representing your client company's brand and image. Make sure you understand their culture and how they want to be represented long before you begin outreach.
Outreach is one of the most time consuming stages of Executive Search. Having a software system like Clockwork can dramatically accelerate outreach on a search project. Clockwork pulls all the information on candidates together, in one place, so your outreach is well informed and effective. And notes can be easily added to candidate records even while you are on the call.
The Outreach Guide and Screening Checklist in this article are from Clockwork's free online course on The Eight Stages of Successful Retained Search. Register today for many more examples and best practices.