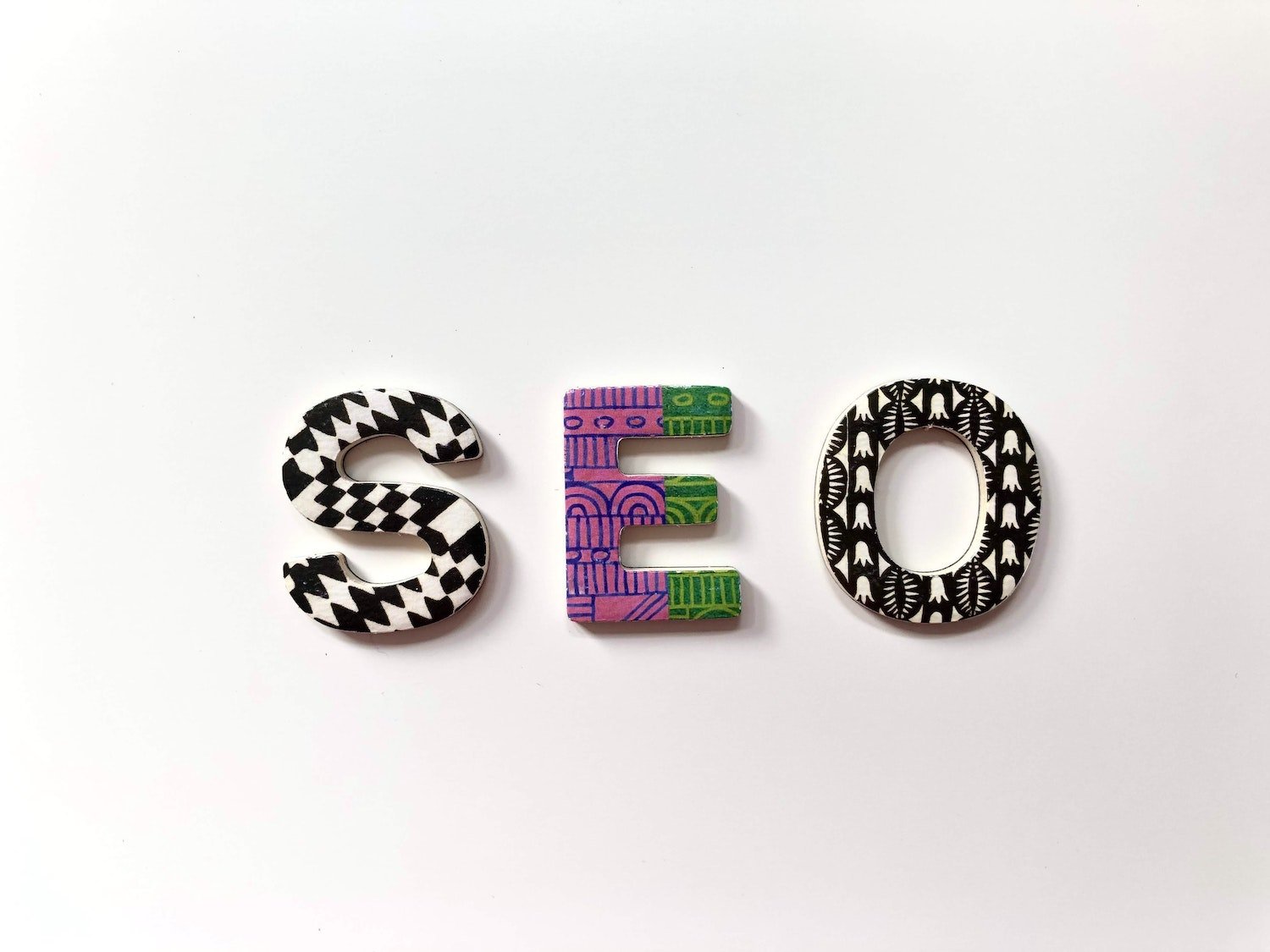 The key to finding new clients and winning new search work for your executive search firm lies in efficiently marketing to the right clients. Typically, executive search firms are reluctant to include marketing within their budgets, however, the ROI can be substantial if a minimal marketing spend results in $60,000+ in search fees. Here are two fundamental ways you can refine your marketing strategy to attract the right types of clients and identify new prospects to target.
Specialization Wins More Work
Professional services is a challenging industry when it comes to marketing and winning new business beyond referrals. For example, when you need a Real Estate Agent or Financial Planner, first you seek advice from close friends and colleagues that you trust. If they can recommend anyone, you Google that person or company, read reviews and get more information. But what happens, if your friends or colleagues don't have a recommendation or a suggestion?
Google is the first place you start your search for an expert. You begin with a generic keyword search and add additional keywords to narrow your search results until you find the right expert in the right location with the right specialty. The same is true for executive search. When clients are at a loss for a referral they start with a Google search to find a specialized executive search firm.
If your marketing strategy and website is tailored to match these keyword searches, then your search firm will rank high in Google's search results. Clients looking for a search firm will often include additional keywords to narrow their search for an expert including:
The city or cities you work in, but can also be larger such as region (Northeast US)
The size of company you work with, usually characterized by the number of employees, annual revenue, and funding
The industries you focus on, such as FinTech or Manufacturing
The departments you focus on, such as Marketing or Human Resources
The seniority levels you focus on, such as C-level or VP
A boutique search firm that dilutes the above in their marketing messaging may be seen by some clients as having a lack of expertise or experience. On the other hand, a search firm that specializes and highlights their expertise across their marketing channels, paints a complete picture of knowledge and experience relevant to a client's specific talent needs.
By including your specialty within your marketing efforts and initiatives you can build a stronger SEO profile for your search firm, raise your brand awareness and increase your ranking within search engine results.
What Is Your Specialty?
You have an incredible amount of expertise when it comes to executive search, but how do you convey your specialty? You can use the Specialization Worksheet below to identify your key areas of specialization - and determine how to position yourself in the industry.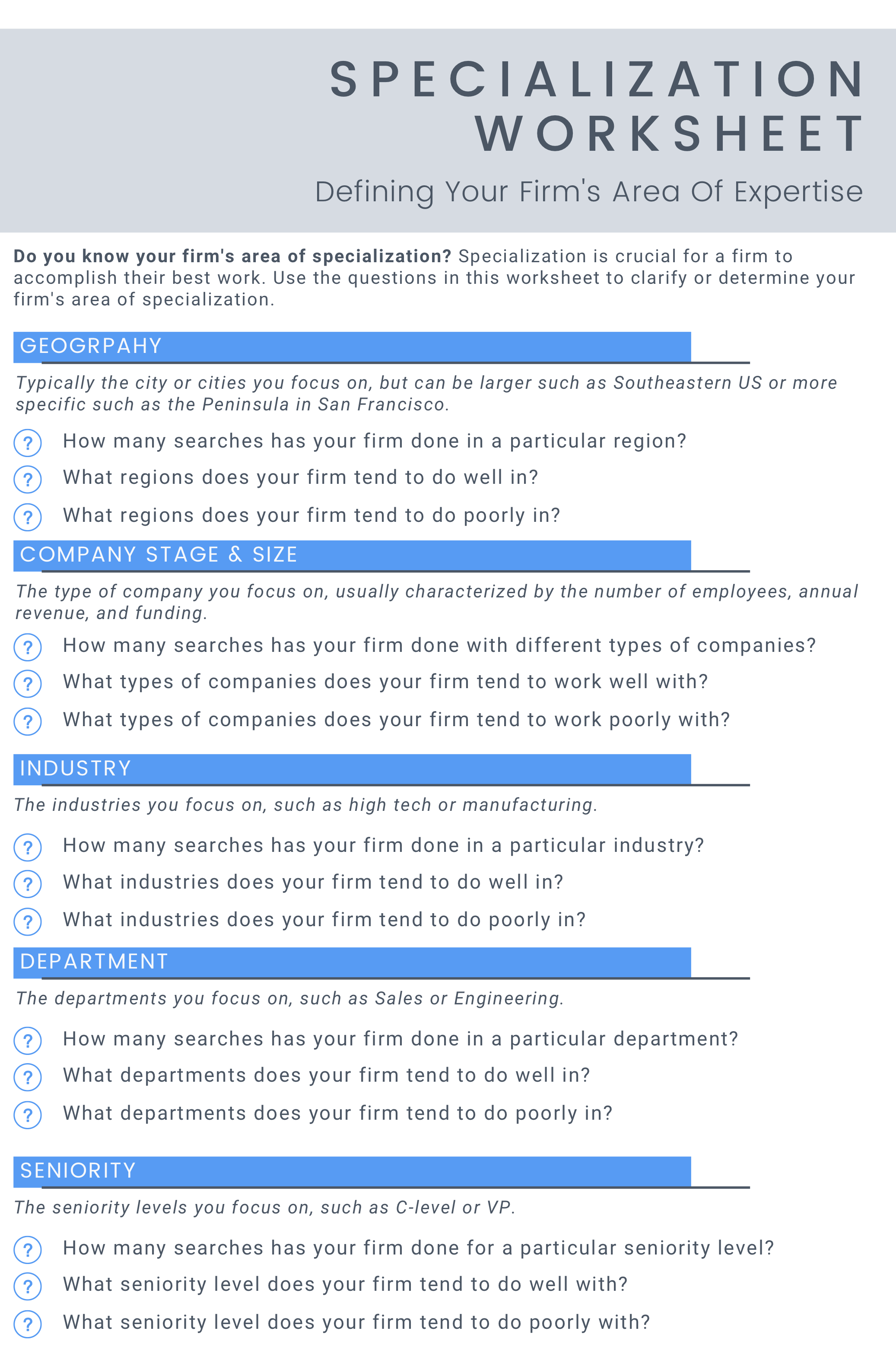 After you have completed the worksheet above and answered the questions, examine your marketing efforts to see how it supports and aligns with your specialty. The more specialized and tailored you appear within your marketing channels, the more targeted and likely a client is to arrive at your search firm's website through Google, social media, etc.
In comparison, this idea also reigns true when a search firm is looking for qualified candidates to place for an executive search. While there is no "perfect candidate," the more specialized a candidate's background and experience - the more desirable and better fit they may be for the position and the client. Successful executive search firms, just like the best fit candidates, have highly specialized backgrounds which positions you as an expert. This is why including your executive search firm's specialty within your marketing strategy is key.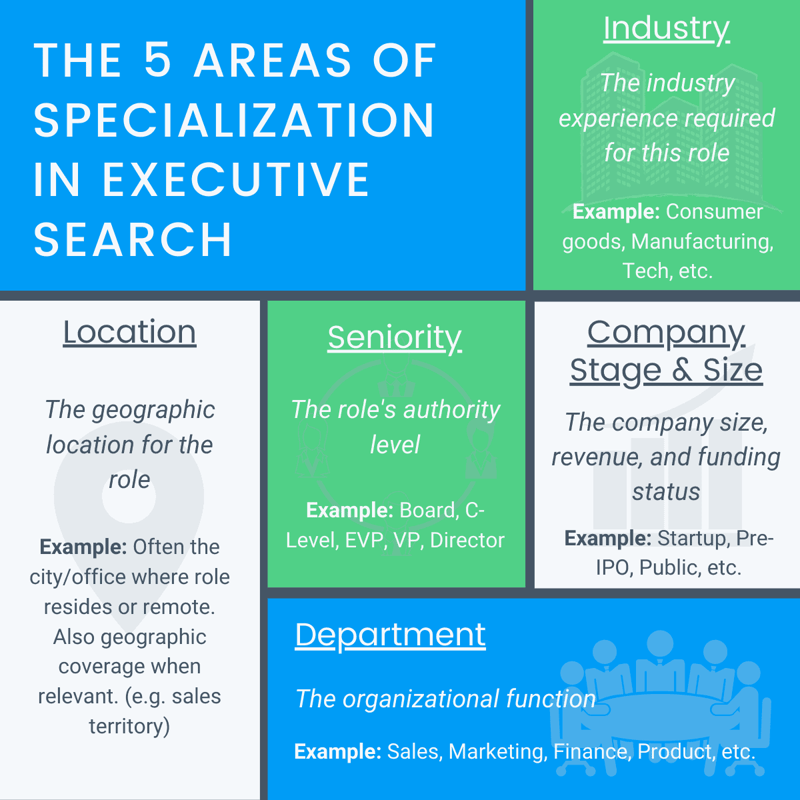 Tailoring your marketing for inbound leads and prospects will paint a definitive picture around the types of geographies, clients, industries, departments and seniorities that you specialize in.
Your website is the first touchpoint a potential client will interact with and is highly indexable when it comes to google searches through search engine optimization (SEO). Instead of using simplified language in your marketing such as "Executive Search Firm Name" include specialization keywords throughout your website such as "Retained Executive Search Firm Specializing In Finding C-Suite Executives within FinTech."
The more specific your marketing is tailored for your executive search speciality, the better a prospective client will be able to discern the types of executive search work you do, the quality of candidates you can reach and whether you can help them with their executive talent needs.
After completing the Specialization Worksheet and tailoring your marketing messaging for inbound leads and prospects, now you will need to find new clients to target for your outbound marketing efforts. Since you already know the types of clients, functions, industries and geography your search firm specializes in, you can use the Target Market List Worksheet below to easily build a list of clients for your outbound marketing efforts.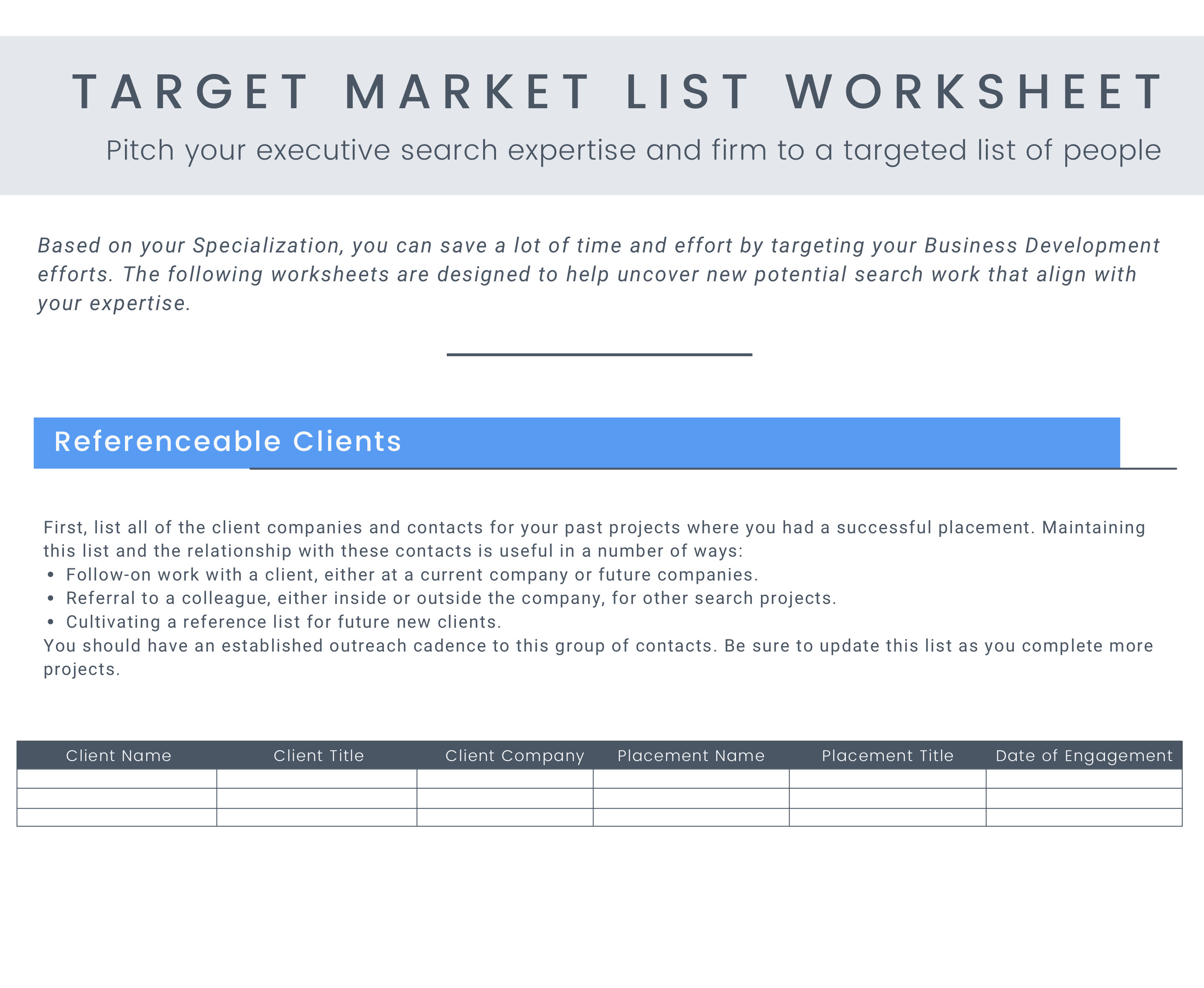 Leverage Your Existing Relationships
List all of your client companies and contacts that you have successfully completed searches for in the past several years. You should already have an established marketing outreach campaign with this group to keep their contact details up-to-date and your search firm top of mind. Be sure to update this list as you complete more projects, or as clients and candidates move on to new roles and new companies.
You can also leverage the list of senior executive candidates that you have placed in the past to identify new opportunities for your executive search firm. For example, if the average CEO has a tenure of roughly 6 years within a certain industry, make a note to follow up with your client after the 6 year mark to see whether they are looking for new leadership or talent. By leveraging your existing search data, past searches, references and placed candidates you can quickly identify new potential search work and prospective clients that align with your expertise.
Identify Other Prospects You Can Help
After you have generated the list of existing clients, consider adding indirect and direct competitors to your target market list. Likely, competitors of your clients will operate in the same industry, geographies and are similar in size. By selecting and targeting companies that are similar to your existing client base and within your specialty, you can guarantee a seamless client experience, decrease Days To Placement (DTP) and increase Placement Rate (PR).
This list of competitor companies that you will target is one you'll want to keep a watchful eye on. Set up Google alerts for these companies and stay updated on news and events such as funding, acquisitions, or product launches. These competitor companies are likely structured similarly to your existing clients and will need to find senior executive talent that you have relationships with and already identified and qualified for past searches. If these prospective clients are thinking about making a new key executive level hire, you can catch them in the exploratory phase of selecting a search firm.
How to Use These Lists?
In the Target Market List Worksheet you will see columns for company names, titles, locations, etc. Paid search and paid social media advertising channels have grown more and more robust and can offer precise target marketing options specific to job titles, interests, geographies, company names and more. These paid search and paid social media marketing efforts allow you to leverage your target market list in a powerful way and place your executive search brand, expertise and specialty directly in front of these potential clients.
In these cases, the more targeted and tailored your paid search or social media campaigns are for your search firm, the smaller your audience will be. However, these highly targeted campaigns assure that your marketing budget is being optimized to showcase your executive search specialization to the right decision makers at the right companies in the right places. You may view these marketing initiatives as costly compared to your other marketing activities, but these campaigns will be able to generate highly qualified leads for nurturing business development and winning new executive search work.
Here is an example.
You have allocated a monthly marketing budget of $1,000 to spend on a paid social media or paid search marketing campaign to target prospects and clients from your Target Market List Worksheet. If a marketing budget spend of $1,000 per month yields 25 new qualified leads or inquiries and results in winning one new search, then the ROI on your initial investment can easily be justified. If the revenue potential from winning that search equals ~$60,000+ in search fees and your initial upfront marketing investment was only $1,000, then the rough cost of acquisition for winning a new search was $1,000. ROI like this can be measured across many marketing initiatives beyond just paid search or paid social media campaigns.
Building a Specialization Brief
By completing both The Specialization Worksheet and the Target Marketing List Worksheet you can use these as a creative "Specialization Brief" to help you or your marketing consultant build a strong marketing plan that will generate results.
Whether you are working with a marketing agency that specializes in working with executive search firms, or producing a simple explainer video for your website, the "Specialization Brief" will guide the overall strategy, tone, content and channels to help generate new search work.
Finding and winning new executive search work is one of the most time consuming stages of executive search. Having a software like Clockwork can dramatically accelerate finding and winning new business by helping you manage your deal pipeline, create marketing lists, track key relationships and use customizable templates for business development outreach.
The Specialization Worksheet and Target Marketing List Worksheet in this article are from Clockwork's free online course on The Eight Stages of Successful Retained Search. Register today for many more examples and best practices.