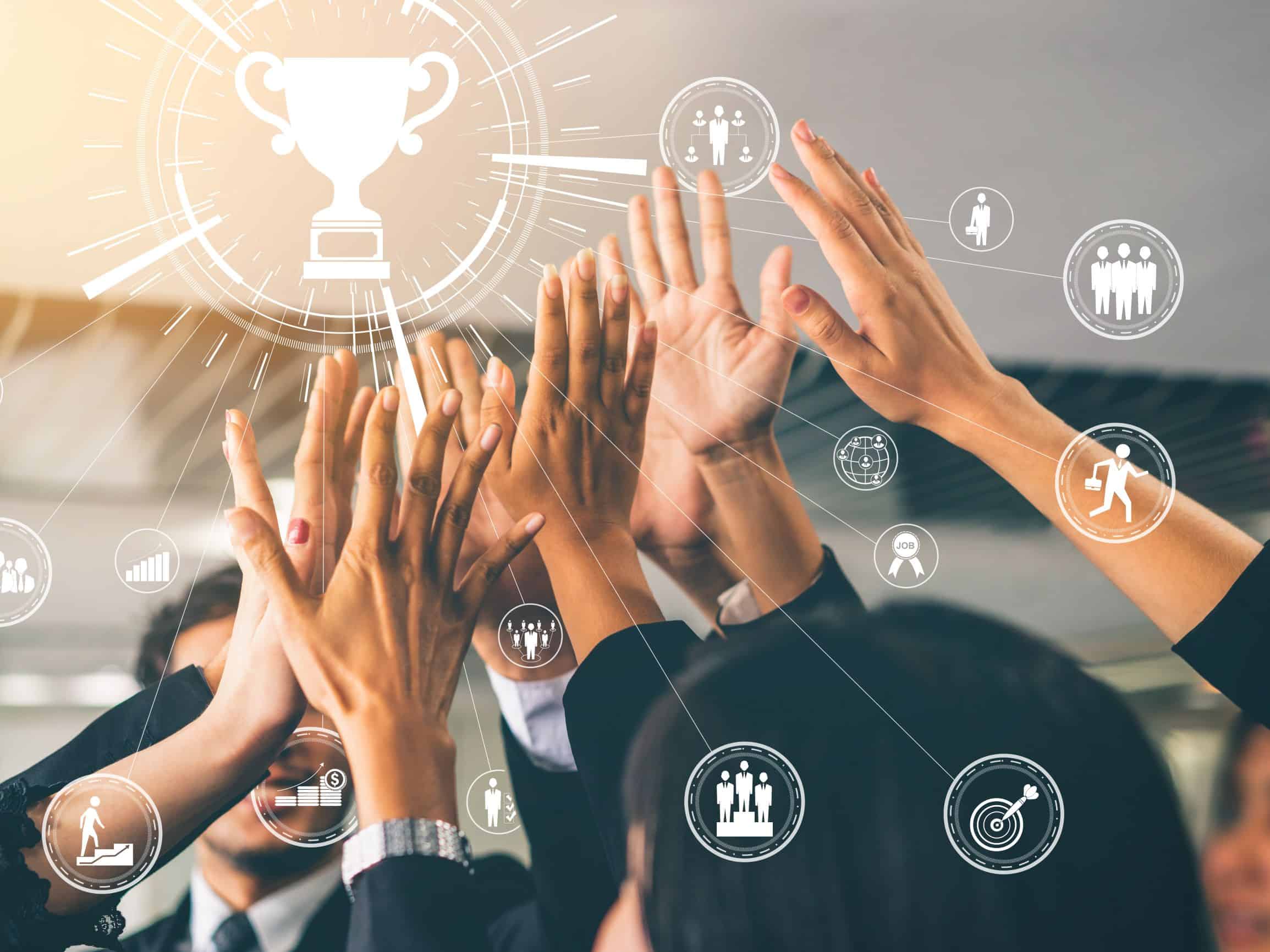 It's that time of year again when we reminisce the old year in anticipation for the new one to come rolling around. In keeping with the season, Clockwork is rounding out 2019 with a look back at the year's greatest achievements.
The team and I here at Clockwork are continuously striving to be the most complete and innovative solution for executive search. From New People Filters to Long List and everything in between, take a look at some of the improvements we've made this past year designed to enhance your search firm's capabilities. Click the image below for a full overview of our product releases in 2019!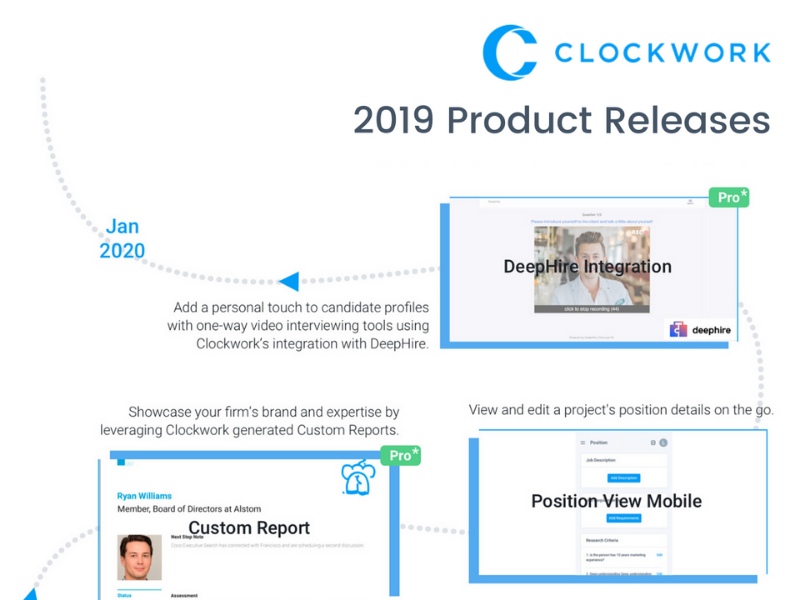 Clockwork integrations you can easily leverage
We understand the importance of being able to integrate Clockwork with your preferred tools. This is why the following integrations have been made available for current customers to utilize in conjunction with Clockwork:
People & Project APIs — Develop a custom API solution using Clockwork-provided public APIs.
DeepHire Integration — Personalize the candidate search experience and guide your client's decision-making process using DeepHire's unique one-way video interviewing platform.
More ways to gather candidate information
Gathering, tracking, and utilizing candidate information has only gotten easier with the following features:
Research Criteria — Calibrate research to the job requirements and evaluate candidates accordingly.
Bulk Resume Upload — Upload multiple resumes and create new candidates all in one step.
Custom Fields — Create and define a Custom Field to capture unique values that matter to your firm and clients such as candidate diversity data.
Customizing made easy
Your retained firm needs a platform that adapts to your needs rather than the other way around. The following features allow for a wider range of flexibility in your search process:
Configurable Project Types — Utilize Projects for Marketing Lists, keeping candidates warm, and client outreach with project type-specific Statuses and Interfaces that support your specific workflows.
Custom Gong Report — Leverage greater control over the access and distribution of closed project details.
Showcase your firm's brand
Don't underestimate the power and credibility that a well-represented brand can have on your business. You can now improve the way you represent your firm's brand to your clients with the following:
Custom Client Emails — Customize notification emails from Clockwork to include your firm's logo and color scheme.
Custom Reports — Produce a branded, firm-specific Custom Report for your clients that includes only relevant project details.
Rethink the way you view your database
We've optimized the way you view your project details and database by improving the following page views in the Clockwork Platform:
Project Navigation — View all relevant project details in one centralized location.
Project Dashboard — Review the progress your team has made in sourcing new candidates, conducting outreach, as well as qualifying and assessing candidates throughout the life of the project.
Long List — Quickly review high-level candidate data to ensure your targets meet your client's expectations.
Status Report — Run your Status Call with your clients directly in Clockwork where you can share vital information on Candidates.
Contract View — Track your contract details, payment schedules, and critical documents in a single location.
Position view mobile — View the Position page on your mobile device whenever you want, wherever you go.
Systematize your data better
Manage your data better with improved filters and customizable data table views with the following features:
Deals Improvement — Manage your Business Development pipeline with advanced search filtering in the fully customizable Deals table.
New People View — Leverage your past work and the wealth of your People Database with Advanced Search and Filtering.
Improved Tag Management — View the number of projects, people, companies, and deals associated with a certain tag. You can also add, edit, and merge tags all from one convenient location.